This week we are on the edge of our seats in anticipation for our first batch of production PCBAs to arrive in our office. The courier couldn't come soon enough! Here's all the latest Pokit Pro news:
Production:
We will be receiving our first 50 production PCBAs in our office on April 22, which we are beyond excited for! These were due earlier this week but has taken longer with the courier than originally estimated. We will have photos posted online as soon as we get those in, but in the meantime, here are some photos from our manufacturers for you to have a look at:
Main boards, USB boards

Manufacturer facilities: repair station, SMT line

LED boards, stencil

We will have a video out this Friday of footage from the manufacturers. This will be alongside the monthly update and images of the PCBAs in our hands.
The plastics have been progressing and we should have photos in the next couple of weeks to show you all.
We have been concerned about the worldwide semiconductor shortage and how this may affect Pokit Pro's release. We are working with our manufacturers to source stock early so that we can fulfil all pre-orders as soon as possible. If you want to find out more about this shortage, have a read of the following article: https://www.theguardian.com/business/2021/mar/21/global-shortage-in-computer-chips-reaches-crisis-point
Embedded/app:
Both our embedded software team and app developers are waiting for the PCBAs to arrive in our offices so that they can continue working on simultaneous multichannel functionality. We've done as much as we can with the pre-production units but need the production units to move forward. Once we have them in-hand this week, we will be stress testing the app to ensure that Pokit Pro and the Pokit App are as reliable as we can make them.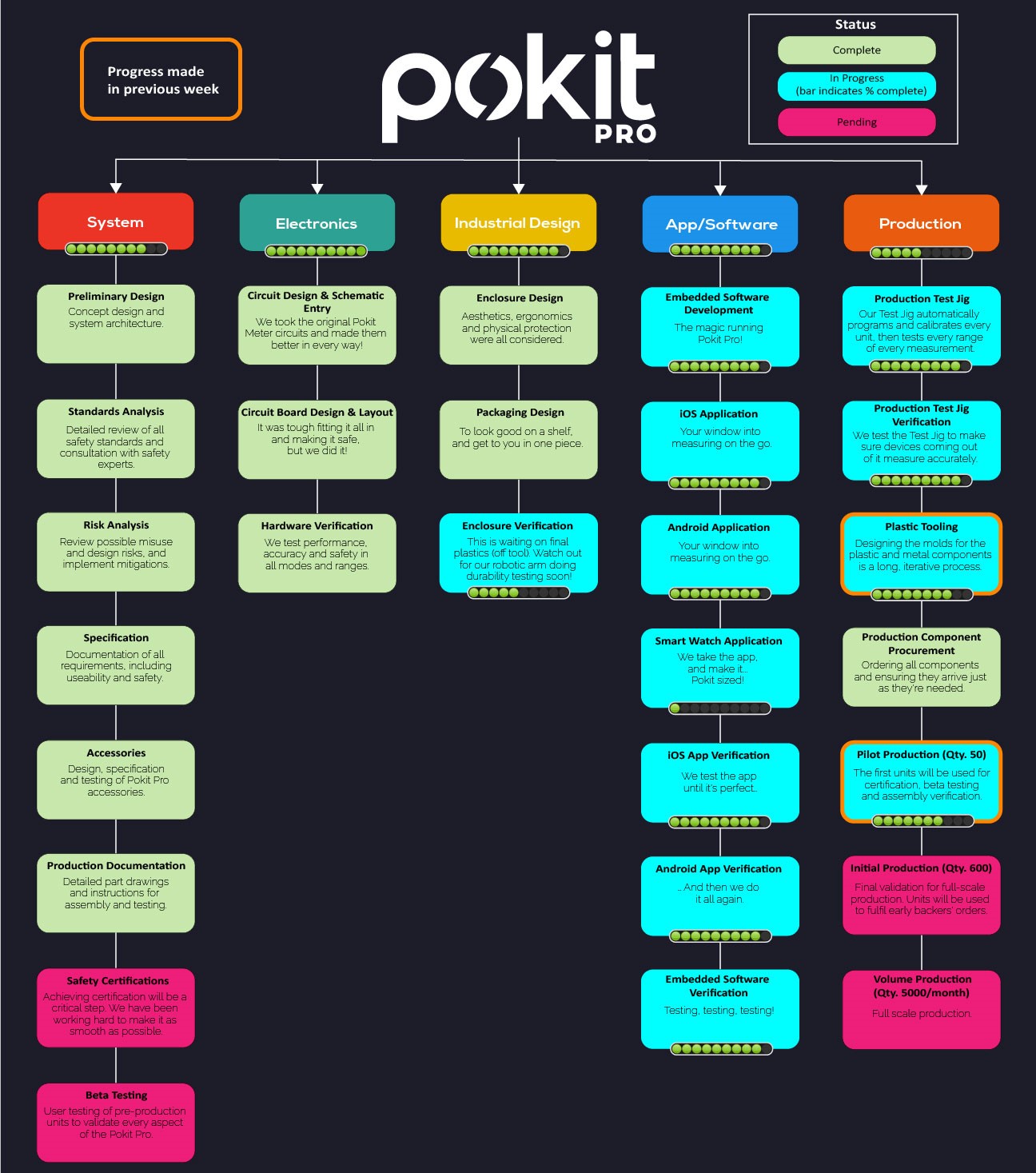 Be sure to check out the monthly update this Friday for PCBA photos in the Pokit Innovations office and production video footage of the Pokit Pro PCBAs being assembled.