Hi all, here's a rundown of what's been happening with Pokit Pro over the past week:
Production:
In the past week, we were able to finalise the pricing for manufacturing Pokit Pro. We were previously quoted a certain manufacturing price, but this price has increased by 25% due to additional components and improvements to Pokit Pro. We have adjusted the prices on the Pokit Shop accordingly. To everyone with pre-orders: rest assured, these price changes will not affect you.
We have encountered a slight delay because our manufacturer started to do production with an older version of the PCB. Luckily, we were able to identify this quickly so that we could get them to change to the latest design. This has affected the expected delivery timeline by a week.
The good news is that production is now continuing on the initial batch of 50 Pokit Pro units, with the PCBs now being assembled. As previously mentioned, these will be used for beta testing and certification.
Because of the size constraints of Pokit Pro's compact design, we are using a specialized type of plastic to ensure that Pro's handle doesn't get too hot. We have been working with our manufacturer this week to help optimize the tools to produce these specialized enclosures.
The Pokit Pro accessories are now well on their way. We've finished conversing with the manufacturer to finalise their designs, and the tooling is now being worked on to produce samples.
Embedded software:
We've been working on a low battery warning system to ensure that the battery is safe even when the battery runs low. We've also been implementing some of the Pokit Pro button features such as turning on the torch and acquiring. We've also been working on detecting the switch location to make sure that you are in the correct mode.
App:
We've moved onto usability testing. Part of the usability testing is providing the app to a wider audience. At the moment, we are just doing this internally, but if everything goes well we will be able to start rolling this out to a small part of the Pokit community.
We've also started to produce a how-to video on the brand new Pokit App that we will be releasing in the near future as we get closer to Pokit Pro's release. This will highlight the improved functions and new features within the app, such as connecting multiple devices at once.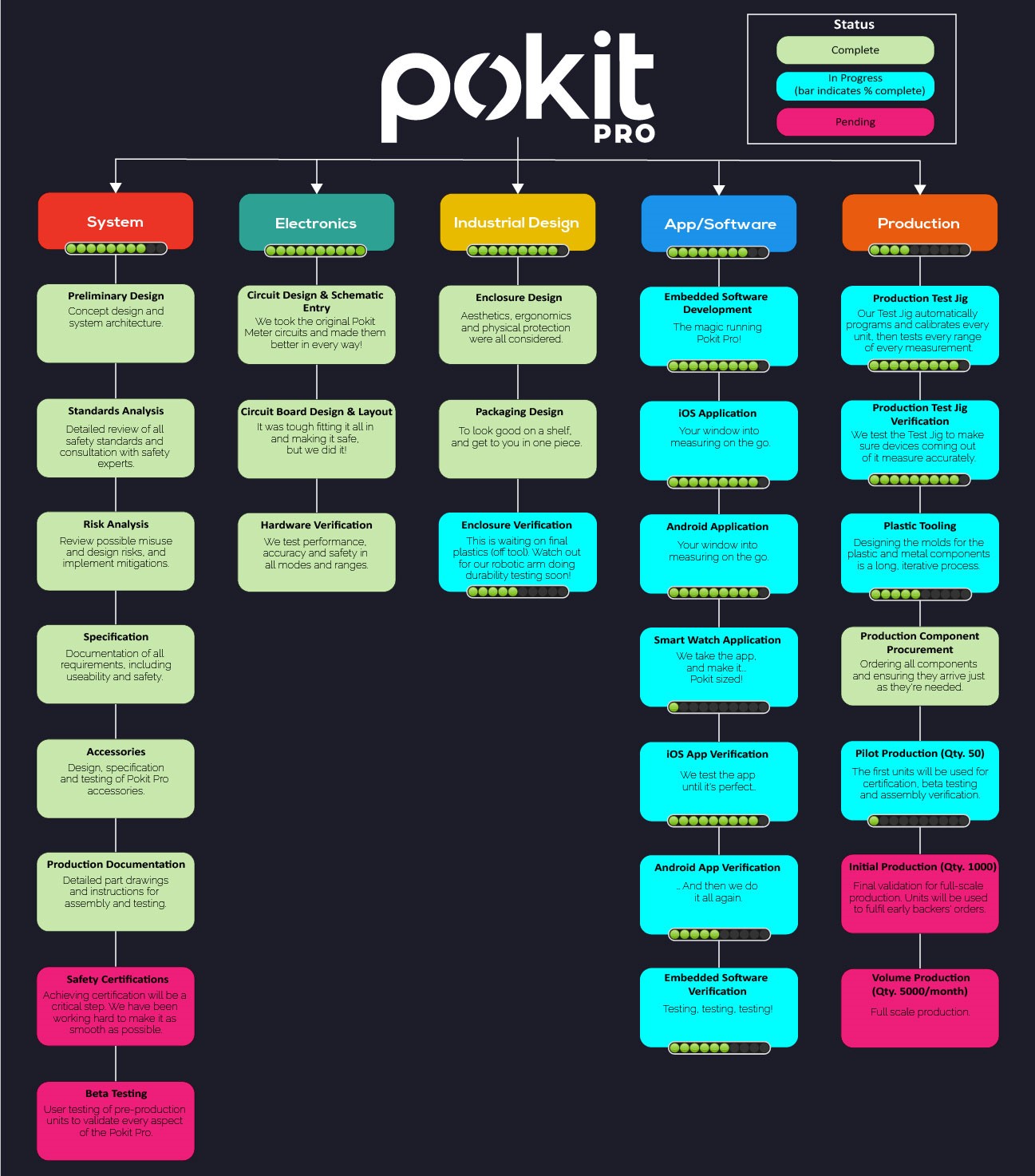 Check back next week for our next update!