Production Update - Manufacturing Restarts!
Since the beginning of March, our manufacturers have had to pause Pokit Pro production due to a widespread COVID-19 lockdown being enforced by the Chinese government in Dongguan, and surrounding areas. This resulted in a full shutdown of production and the inability for us to ship units to our fulfillment centre. To read further about these delays, please refer to the articles below:



The good news is that our manufacturers have reopened this week and started the manufacturing and assembling of Pokit Pro units again! Here are some specifics about the current production:
Production rate: >300 units per day
Packaged units ready for transfer to fulfillment centre: 2,500 units
We anticipate the 2,500 packaged units to be transferred to our fulfillment centre in Hong Kong next week. This means that all orders up to Kickstarter backer number 2250 can be fulfilled straight away. We will continue to fulfill Kickstarter backer orders in ascending order.
Be sure to check our weekly updates to see how production progresses over the coming weeks: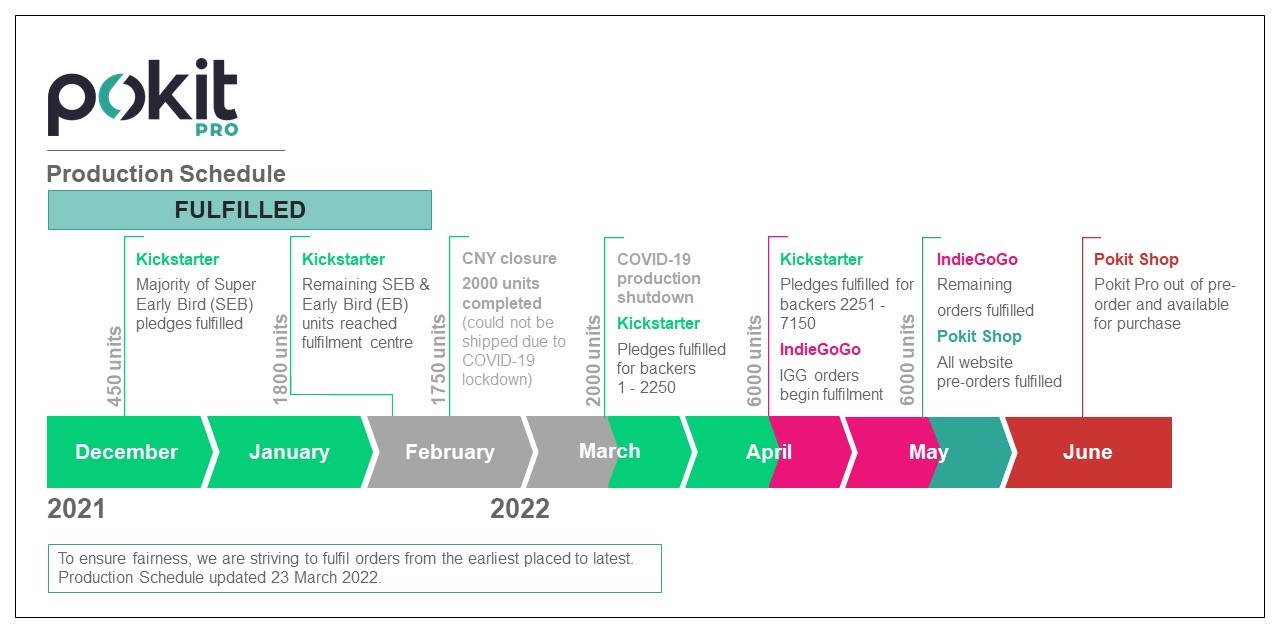 Pokit Pro Pre-order Notification
We require some additional information for Pokit Pro pre-orders from the following regions to be able to ship these orders. If your order is affected, please send the required information to support@pokitmeter.com.
Australia: cannot ship to PO boxes or parcel lockers - physical address needed
Korea: Name and address in Korean characters
Taiwan: Name and address in Chinese characters, Tax ID
Invest Now!
OUR CROWDFUNDING CAMPAIGN IS PUBLICLY LIVE!

Today our crowd-sourced equity raise kicks off publicly! A BIG thanks to our early investors for jumping in and helping us successfully raise more than $195k!

It's been an absolute privilege to talk to so many of our potential investors and hear everyone's excitement about Pokit's technology and future potential. We believe we can change an industry and we love that so many of you are sharing our goals and supporting our mission.

Please check out our campaign via the following link:
Special Rewards
In addition to being a shareholder of Pokit, a range of rewards is being offered to investors. We are excited by the opportunity to bring more passionate investors into the process of developing our future products and wanted rewards that reflected this philosophy.
Anyone investing above $500 will enjoy unprecedented access to help shape the future of Pokit.
For a $2.5K you can make your friends jealous with a 25% off storewide lifetime discount!
With a 10k investment, you will be able to beta test units and ensure you are the first to get our latest products.
Join us now and let's change an industry together!
*Always consider the general CSF risk warnings and offer document before investing.