Production Update
Our latest batch of 1800 units has recently arrived at our fulfilment centre! These arrived on schedule at the end of January. Unfortunately, there was a slight delay with fulfilling the outstanding 'Kickstarter Early Bird' orders due to a customs issue that prevented the orders from being released to couriers. The issue has been resolved and the early bird backers should now have received their tracking numbers. If you are a Kickstarter Early Bird backer and have not received your tracking number, please contact us at support@pokitmeter.com.
Since the Chinese New Year break has passed, our manufacturers have reopened and will return to a high production rate by the end of the month for the next batch of Pokit Pro units! Check our production schedule below to see when you can expect your order.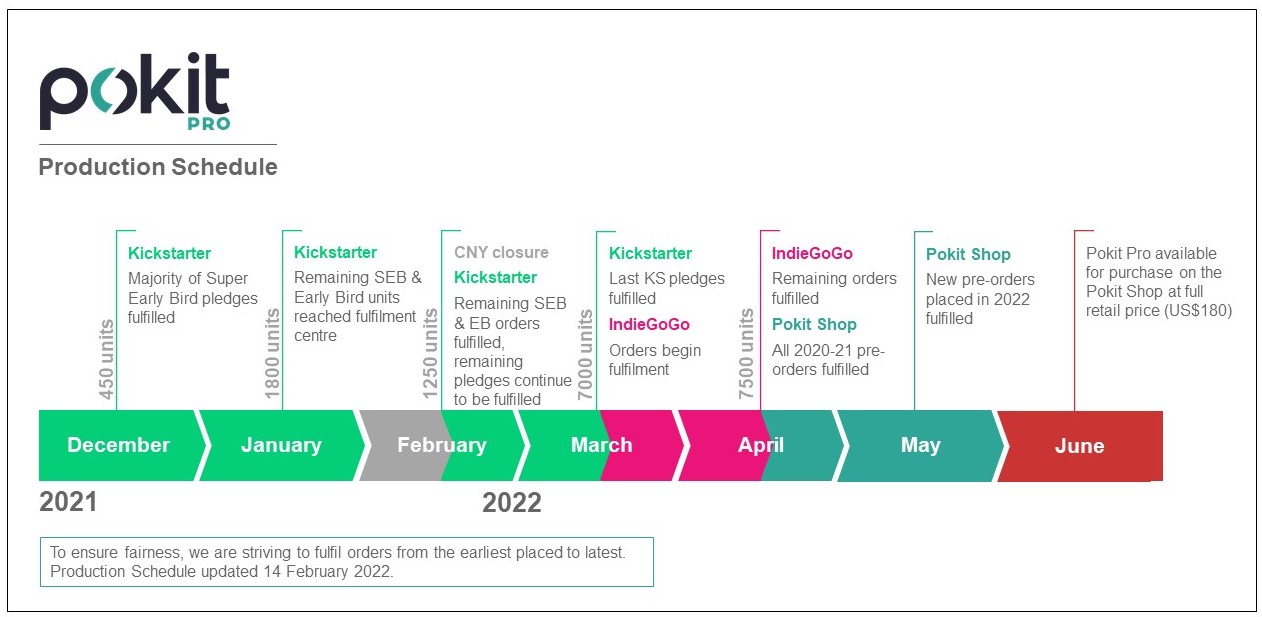 Pokit Pro Pre-order Notification
We require some additional information for Pokit Pro pre-orders from the following regions to be able to ship these orders. If your order is affected, please send the required information to
support@pokitmeter.com
.
Australia: cannot ship to PO boxes or parcel lockers - physical address needed
Korea: Korean name and address
Taiwan: Chinese name and address, Tax ID
Expression of Interest Campaign on Birchal is Live!
What a journey we've been on!
Our community has supported us all along the way, from the phenomenal success of our Pokit Pro Kickstarter and IndieGoGo campaigns, through the struggles of getting safety certification and production started. And now, we've launched our Expression of Interest campaign on Birchal!
This means that you can register your interest to be one of the first crowd investors in our business when our investment offer goes live.
Please check out our campaign via the following link: Pokit Equity Crowdfunding Birchal Page
Why Crowdfund Equity?
For the first time in Australia, private companies like Pokit can access Equity Crowdfunding and allow anyone to invest in young and high growth companies easily. Our community has been spreading the word of Pokit for years - and we see equity crowdfunding as an opportunity to involve everyone that have supported us. We're now raising additional capital to accelerate our growth and take the brand to the next level.
At Pokit, we empower people through modern technology by creating affordable and easy to use measurement equipment that is exceptionally powerful. With your support, we can reach our target and continue our focus on democratising electronic test and measurement equipment.
We've gotten this far, but to accelerate this impact, we need to raise this round of investment funding to achieve our most ambitious goals. If you want to join us on this journey, express your interest to be one of the first to know when our investment round is open!
*Always consider the general CSF risk warnings and offer document before investing.
Watch our recent Q&A Webinar!
We recently streamed our very first live Q&A webinar on the 3rd of February! Thank you to all who tuned in and sent through your questions. We will be answering all unanswered questions from the event in an upcoming blog post. If you missed the live stream, follow the link below to find out more about Pokit, our progress with Pokit Pro, our upcoming investment opportunity, and many FAQs!