Production Update
Pokit Pro is arriving! Most of our first batch of Pokit Pro orders have reached our backers over the past few weeks, and we have received some great feedback in this time. We encourage those of you who have received their order to share what you think with us on the Pokit Forum and Facebook Community Group.
Over the past few weeks, our manufacturers have experienced some delays due to enforced COVID lockdowns, which led to a temporary production halt. We are happy to announce that production has been underway since last week, and we are scheduled to have the next batch of units fulfilled before the end of January! We anticipate having just under 2000 units assembled to fulfil 4 to 5 times more orders than our first batch of orders.
In the meantime, our team have worked alongside our manufacturers to improve yield and throughput by making slight tweaks to the production process. We also have a new firmware update for Pokit Pro currently undergoing verification that will be released next week. This update will solve a disconnection issue being experienced by some users.
Next week, our manufacturer will shut down for a few weeks for the Chinese New Year holiday. We will use this time to improve the production process to increase the production rate when they return in mid-February. Please refer to our production schedule below to determine when you can expect your order!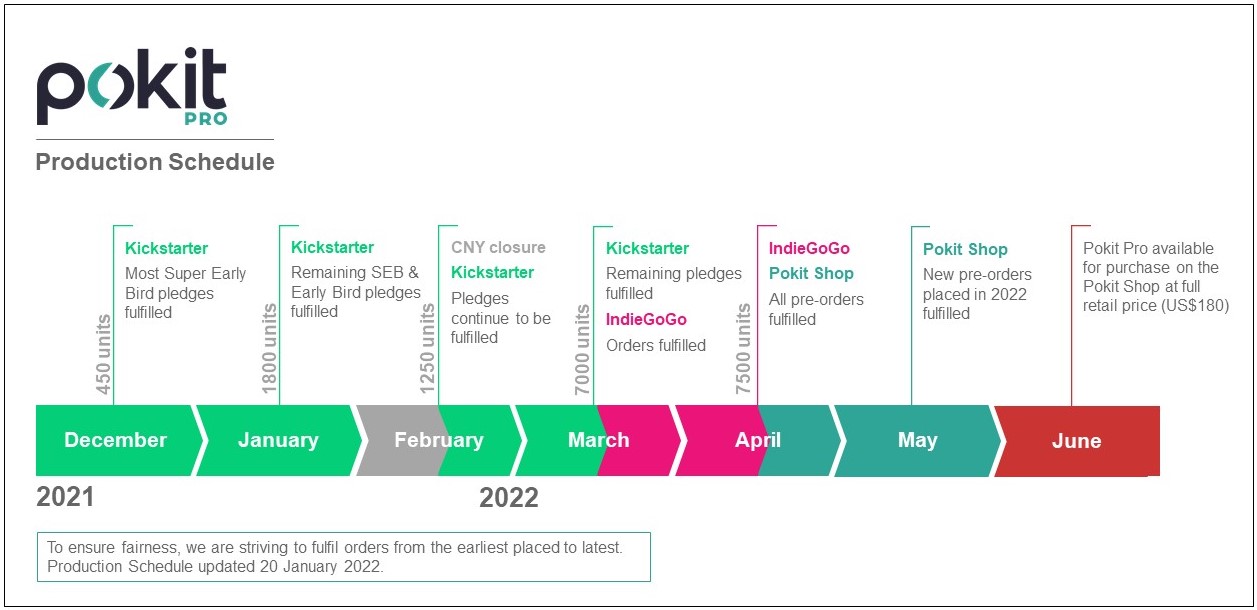 Webinar Q&A
We are excited to announce that we will hold our first live webinar! We will be running this on our YouTube channel. In this session, we will be sharing our progress with Pokit Pro over the past couple of years and providing more information about the upcoming investment opportunity. You will also be able to ask any questions you have about anything Pokit related! We haven't done anything like this until this point, so we are excited to see how it goes and what questions you may have!
If you don't think you can make it on the date, feel free to send any questions you want to be answered to support@pokitmeter.com so that they can be answered during the webinar. Please refer to the table below to see when the webinar is held.

Our Crowd Funding Equity Partner is... Birchal!
Behind the scenes, we've been working on something big. We have partnered with Australia's largest equity crowdfunding platform, Birchal!
Birchal believes that everyone should have the opportunity to invest in the Australian brands they love. They have helped over 100 start-ups raise over $65M by allowing anyone to buy shares in private and unlisted public companies.
We're genuinely excited to partner with Birchal as we continue our mission to democratise test and measurement equipment.
If you want to learn more about what we have in the works, please subscribe to our investment list. It has been encouraging to see that many of our Pokit community have already subscribed. We will be reaching out over the coming weeks to get your feedback and provide you with more information about this exclusive offer.
*Always consider the general CSF risk warnings and offer document before investing.