Production Update
Since Pokit Pro passed IEC61010 safety certification last month, we've been busy preparing for the first production run of Pokit Pro. Things are progressing a bit slower than we would've liked as we now rely on collaborating remotely with our manufacturers due to travel restrictions, whereas in the past we would've been onsite at the factory. We have however made good progress on getting the tooling ready for production to start. During the tooling preparation a small issue was discovered where the light rubber overmold (for the fuse cover) on dark plastics, would result in the overmold being slightly transparent. To resolve this, we've been working on altering the colours of the plastics to be correct for the overmolding. We have also solved an issue getting the fuse cover to attach and stay intact.
Our hardware engineers have finished constructing and verifying the Pokit Pro test jig. All Pokit Pro units will be individually tested in the jig during and after the production run to ensure that they function correctly before being packaged and shipped to backers. We will be doing this to ensure that no one receives a device that isn't working to our high standards.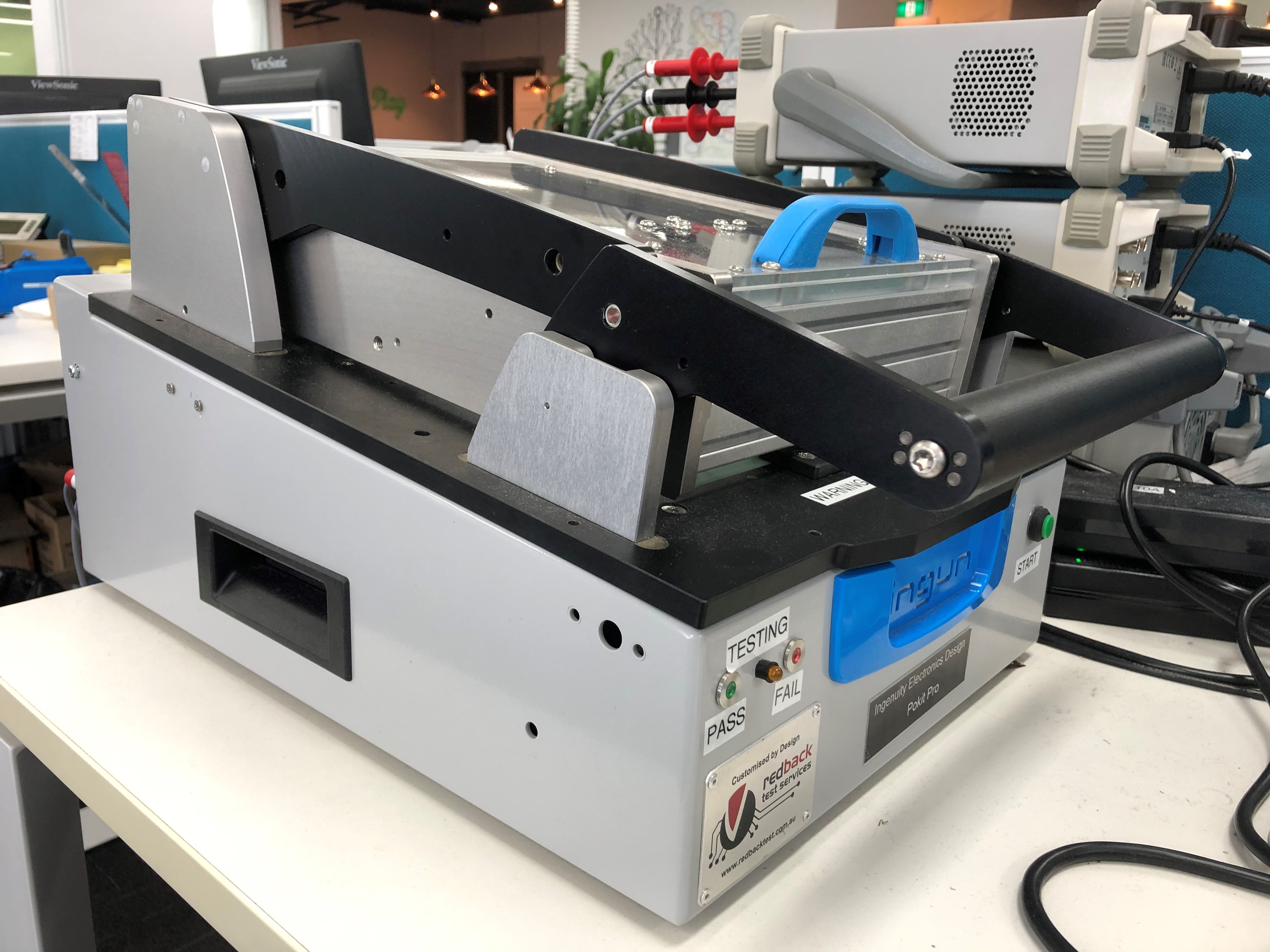 Shipping Schedule
We will soon begin Pokit Pro production, scheduled to start at the end of October! Below you can find a detailed graphic of when you can expect to receive your [pledge/order]. Orders will be fulfilled from the earliest placed to the latest. The production schedule has been pushed back slightly from when we intended to begin production due to a cable shortage, but we have now secured stock of this component and can share the shipping plans. We anticipate a one-month delay in production due to Chinese New Year in February 2022, but will be going as fast as possible overall.
It has been a long time coming to begin production, and we are thrilled to reach this point! Thank you all for your continued support and patience through this time. We can't wait to begin shipping units! Be sure to check your address details as we will be locking in addresses closer to when each batch of orders is produced.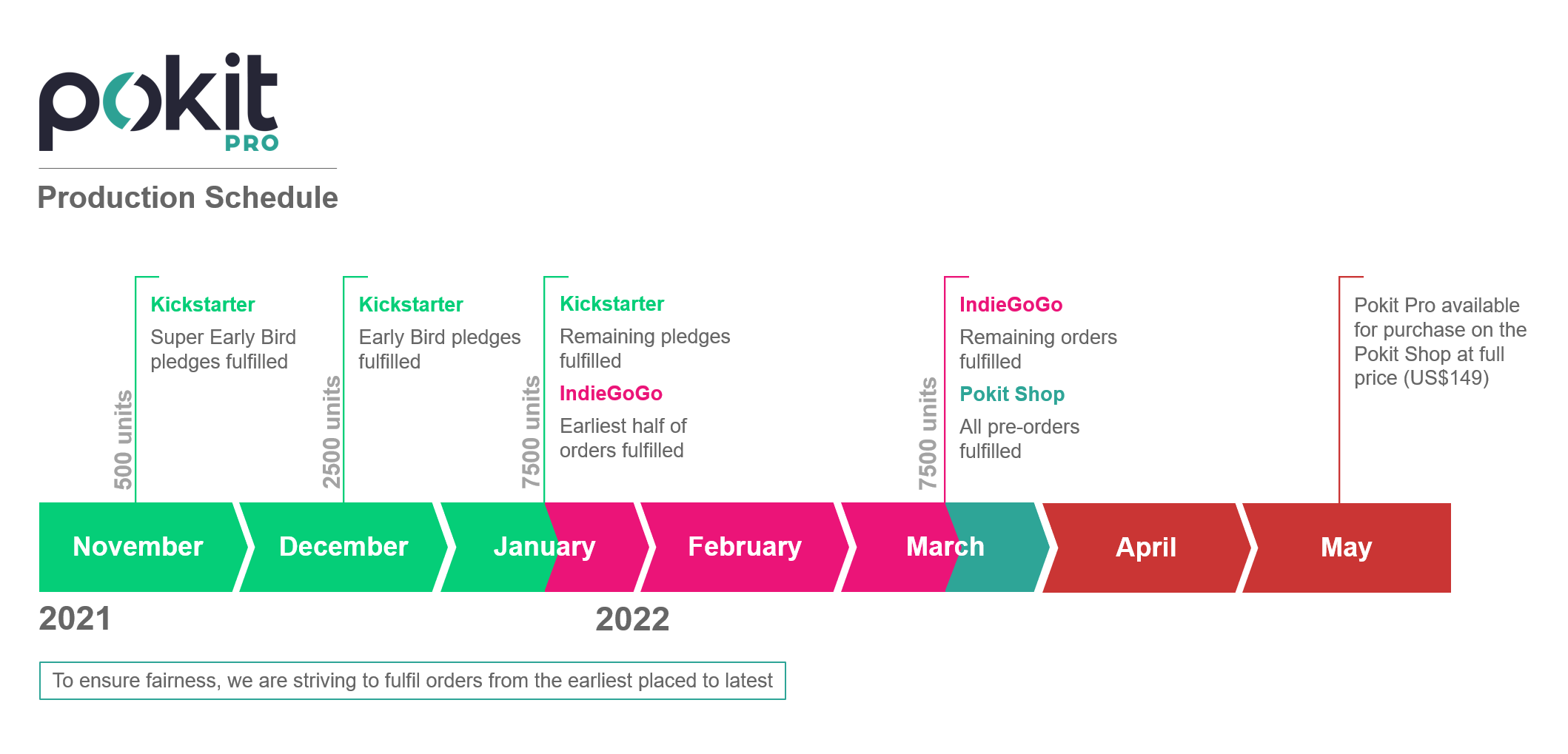 New Pokit App
A few months ago, we mentioned in our newsletter that a new Pokit App would release before Pokit Pro begins shipping. After many hours of software development, testing and verification, we are excited to announce that the new Pokit App will soft-launch later this week! Android users can access a beta release by searching for 'Pokit' on the Google Play Store, while the iOS app will initially only release in select regions. If you own a Pokit Meter, you will be able to test the app and explore the new features and layout. Even without a Pokit Meter, you can still preview the app and get a feel for its usability and features. Be sure to follow our Facebook, Instagram, and the Pokit Forum to know when this becomes available in your area! The existing Pokit Meter app will still be available if you're not ready to try the new app.
If you haven't already, be sure to subscribe to the Pokit Forum where we will soon begin releasing our user guides. These will give you a walkthrough of the new app's functions, such as connecting devices, using the multimeter, oscilloscope and logger, and using multiple devices simultaneously.
To celebrate the new Pokit App, we are running a Limited Time Offer! Get 20% off on Pokit Meter and Pokit Meter Fuse Set by using the code POK-NEWAPP at checkout on the Pokit Shop! This is only running for 48 hours (ends 22/9/21 2:00pm Australian EST), so be quick!
Pokit Student Program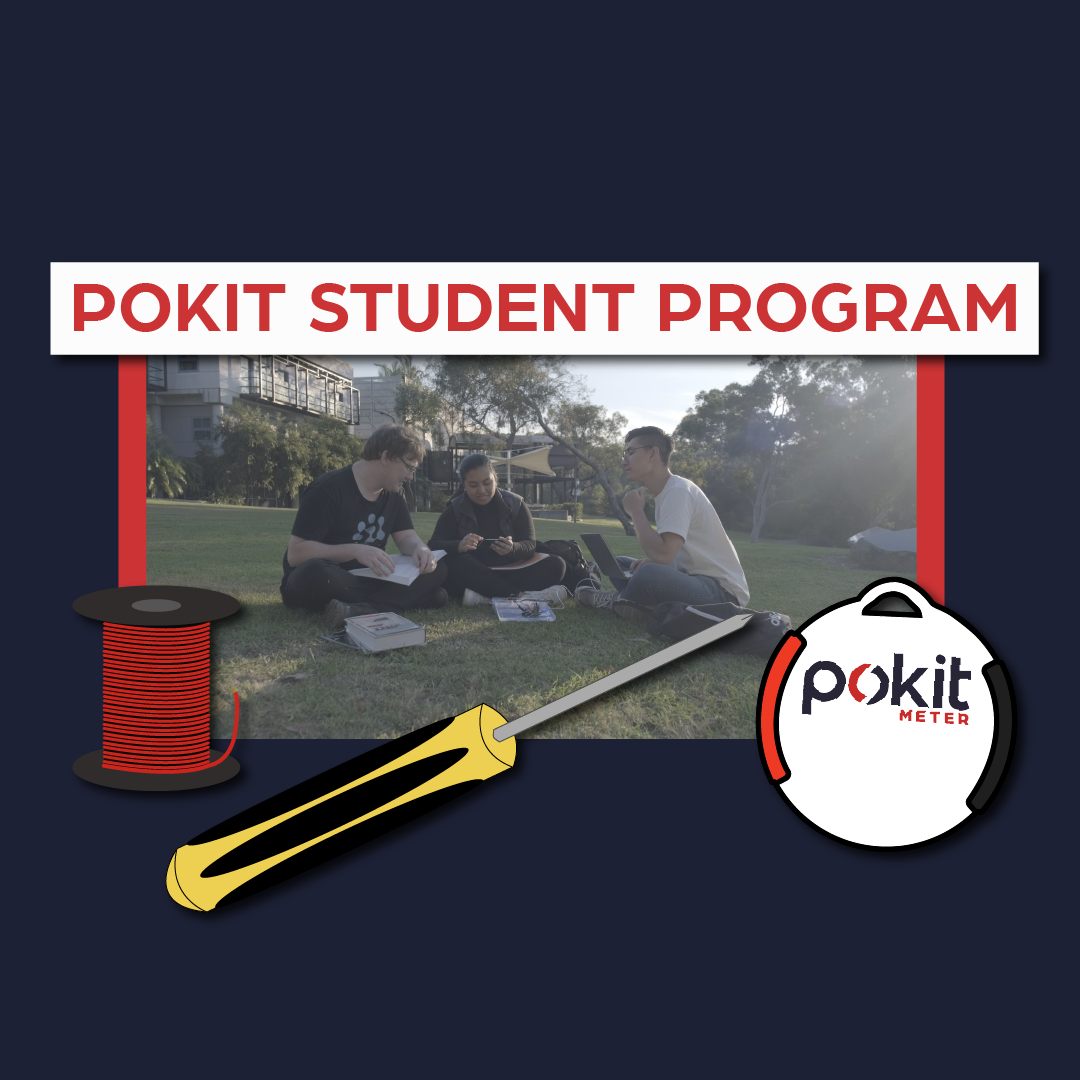 We are launching the Pokit Student Program! This program aims to help current STEM students who may be struggling to visit a university to use lab equipment such as a multimeter, oscilloscope, and data logger.
To join the program, you will need to send us your school, faculty or university's email domain name (e.g. if you go to Sydney University, submit @sydney.uni.edu.au). You must be a professor or educational staff at the university to be eligible to submit your university email address domain. If you are a student, let your professor or tutor know, and they can email us at support@pokitmeter.com.
Once you have joined, everyone from your university can use their university email address to access a 15% off student discount for their Pokit Meter purchase and future exclusive student offers.
For more information click here.
Student Giveaway
Last week, we announced we will be giving away a Pokit Meter to a lucky STEM student or upcoming electronics enthusiast. To be in the running to win you must tag a STEM student or upcoming electronics enthusiast on the giveaway Instagram post. You can use the link below to enter! Be sure to enter soon as the competition ends on the 24th of September.
*Open worldwide. 1 tag = 1 entry.

Pokit Student Giveaway Instagram Post